By: Adam Bednar Daily Record Business Writer January 31, 2017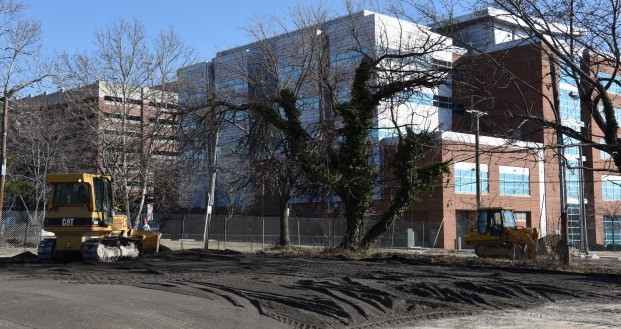 Construction commenced on the first phase of a massive redevelopment aimed at revitalizing the west Baltimore neighborhood surrounding the University of Maryland BioPark.
The project's contractor, Kinsley Construction Inc., announced ground-breaking Tuesday on the first phase of the Center/West project, dubbed the Park Square Homes 1.
"There's a huge rebirth that's coming to the west side, and this is, along with the University of Maryland, the future of the redevelopment and it's really starting now," La Cité Development President Daniel Bythewood Jr. said. "We're really excited to be part of that rebirth and contributing a significant amount of investment capital into west Baltimore."
The first phase of the development, a joint venture between La Cité Development and BRP Development Corp., involves construction of a five-story, 244,161-square-foot building with 171 residential units and a four-story, 115,635-square-foot structure with 88 residential units.
Construction on the first phase also includes a traditional park as well as dog park. The first part of the development is expected to cost $80 million and take between 20 and 24 months to complete.
Plans for the overall project call for 3.2 million square feet of space with a total of 1,700 to 1,800 residential units at a cost of about $800 million over four phases of build-out. The full build-out is expected to take between 15 and 20 years, but Bythewood said his firm is exploring speeding up that timeline.
"We're going to try and expedite that, but we're entitled to 3.2 million square feet on that property. So it's a nice healthy size redevelopment effort," he said.
In 2015, the city approved $58.3 million in public financing for the project through tax increment financing, which requires the city to issue bonds to pay for infrastructure improvements supporting the project. The city expects the bonds to be repaid with an associated increase in property taxes.
The use of tax increment financing as a development incentive has become increasingly controversial in Baltimore, and the use of the development tool resulted in lower public school funding for the state. Meanwhile, activists opposed to this type of public financing argue the developments bring residents to the city and put stress on services while property taxes pay debt.
Bythewood said the first tranche of bonds, $12.2 million, were issued, and that the sale of the bonds a few weeks ago went well.
"It was actually very successful, it was over subscribed, so lots of interest in the bonds," he said.