By Jason Scott, January 31, 2017 at 12:28 PM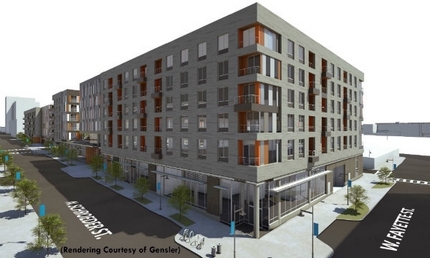 The midstate's largest general contractor, Kinsley Construction Inc., has started construction on a roughly $50 million mixed-use project in southwest Baltimore.
York Township-based Kinsley said the Park Square Homes 1 project, which it is building for PSH 1 LLC, a subsidiary of New York-based La Cite Development and BRP Development Corp., will consist of two mixed-use buildings that border the University of Maryland BioPark.
One building will be five stories and 244,161 square feet with 171 residential units, while the other will be four stories and 115,635 square feet with 88 residential units.
Kinsley officials said the residential units will be a mix of apartments and for-sale units. Also, 20 percent of the residences will be offered as affordable housing.
Each building will include retail space, parking and an elevated outdoor courtyard.
This project is the first of a planned four-phase development to revitalize Baltimore's Poppleton neighborhood. The first phase is slated for a December 2018 completion, according to Kinsley.
article posted on http://www.cpbj.com/article/20170131/CPBJ01/170139954/kinsley-construction-breaks-ground-on-50m-mixeduse-project