Once completed, the Center\West project will have 2,853 apartment units, 20 percent of which will be set aside for workforce housing.
by Holly Dutton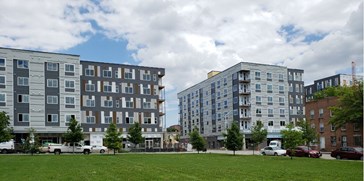 The first phase of Center\West, a long-awaited rental development in Baltimore, is ready to welcome its first tenants. The two buildings in this phase, AVRA & CIRRO, are the first of about 30 buildings that will make up Center\West, an $800 million project built by La Cite Development that will house 2,853 apartment units once completed.
The first phase of the project broke ground in January this year. The two mid-rise buildings have 262 apartment units and 17,500 square feet of ground floor retail space. The list of amenities includes a swimming pool, three decks, community spaces for residents, a business center and two gyms.
The mixed-use development is situated at 101 N. Schroeder St. in the Poppleton neighborhood of west Baltimore, adjacent to the Edgar Allen Poe Museum. It will include 250,000 square feet of commercial space, new park and structured parking, as well as infrastructure and utility upgrades. Twenty percent of the total rental units will be set aside for workforce housing.
KeyBank's Community Development Lending & Investment (CDLI) team and Commercial Mortgage Group helped finance the construction of phase one for Center\West Apartments in 2017 by providing $56.1 million in FHA-insured 221(d)4 financing.

(Image courtesy of La Cite Development)
(https://www.multihousingnews.com/post/first-phase-of-baltimore-development-opens/)